At Varsity Vibe, we love organising exclusive deals and discounts for our members and saving them cash…but what we love even more is hearing about it! So…we want you to:
Tell us your story of how Varsity Vibe "saved" you!
What's in it for you?
The first 150 members to enter (correctly) will automatically win themselves a R50 UBER voucher off their next trip
Stand the chance to win the a R5000 travel voucher from Flight Centre Youth & Adventure

How do you enter?
Easy…just do the following:
Take a pic of how Varsity Vibe saved you (this can be of the till slip or you at the store or with the merchandise – get creative!)
Post it on Instagram/Facebook (NB: not twitter) – ALSO…make sure you set your post to "public" and not "friends only" (this is so we can see your post and send you your UBER voucher!).
Include the following in your post:

Hashtag #VVsavedme and tell us how much or why
Hashtag #neverpayfullprice
Tag @VarsityVibeSA
Sound confusing? It isn't – check some examples below…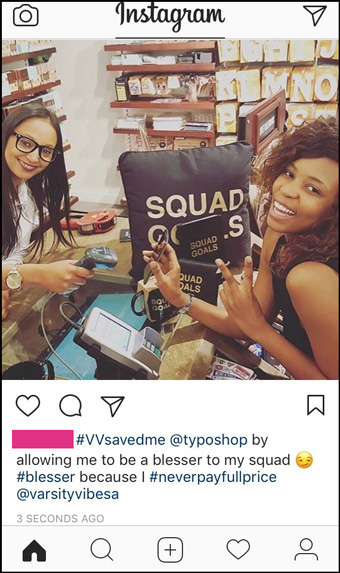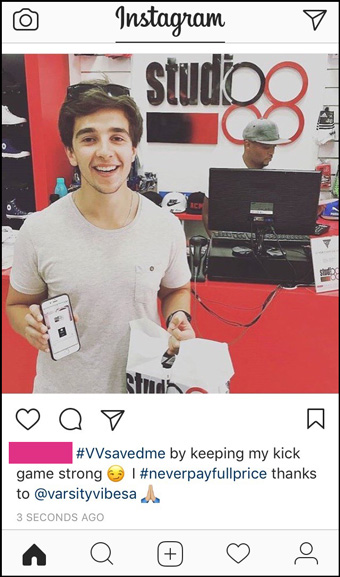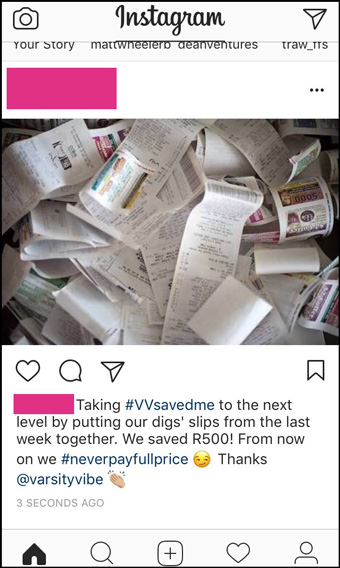 So get posting and Enjoy the Perks of Student Life!
Terms and Conditions:
This competition is open to Varsity/Ikeys/Wits Vibe members only
Multiple entries are allowed (Members can enter as many times as they like)
Same picture cannot be used more than once
The post/pic must remain on member's Facebook/Instagram account until announcement date of winner to qualify
Each entry = entry into the final draw
In order to qualify, member must use both hashtags (#VVsavedme and #neverpayfullprice) as well as tag @VarsityvibeSA in the post.
Only the first 150 correct entries will receive a R50 UBER Voucher.
UBER Voucher winners will be contacted directly by Varsity Vibe and sent by way of a promo-code which they can enter in their UBER app.
Should a member enter more than once, only their first 4 entries will receive a R50 UBER voucher (if the entry was made within the first 150 entries).
The R50 UBER voucher is for next trip only – ie any unused credit from the voucher does not carry over.
The UBER voucher must be used before its expiration date (30 June 2017).
The UBER Voucher is subject to its own Terms & Conditions set out by UBER.
Examples above are for information purposes only and cannot be used nor do they count as entries.
Winner will be drawn on Friday, 28 April 2017.
The judge's decision is final and no correspondence will be entered into.
Announcement will be made on Facebook about the winner of the Travel Voucher.
The R5000 Travel Voucher from Flight Centre Youth & Adventure Travel are subject to its own Terms and Conditions as set out by Flight Centre Youth & Adventure Travel.
The prizes are not-transferable, for sale or re-sale or redeemable for cash.
The competition starts on 22 March 2017 and ends on 28 April 2017.
The prize winner will be notified via Facebook/Instagram by no later than Tuesday, 2 May 2017.
We will try contact the winner a maximum of three times before selecting a new winner.
The winners' names and/or photographs will be published in our monthly newsletter unless requested otherwise in writing.
Varsity Vibe reserve the right to change the prize(s) without notice to you.