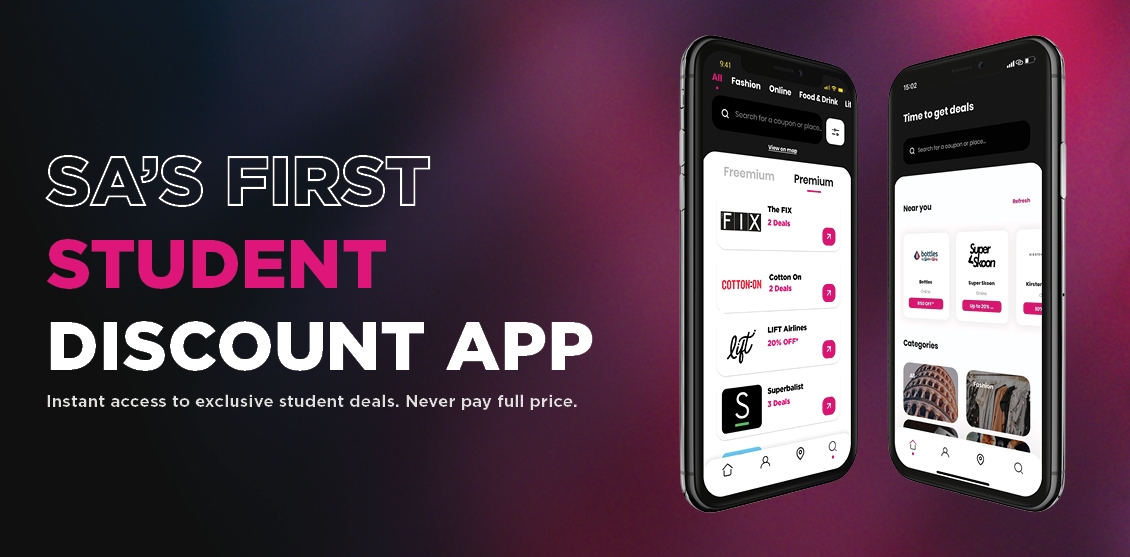 ABOUT US
Varsity Vibe – SA's 1st Student Discount App – offers instant access to awesome (and exclusive) student deals for members only. Anyone can download the app and see the deals…but only a student (ANY student in SA) or qualifying user can get access to the deals!
We help SA students enjoy the perks of student life!
In a nutshell:
Varsity Vibe has been operating for over 10 years, starting in the Western Cape and Gauteng. Fast forward to 2021 and we have a substantial footprint ALL OVER SA!
Varsity Vibe verifies the student status for our partners – no more risking dodgy student cards for a student deal!
We arrange EXCLUSIVE student deals with the coolest brands in SA.
We organise loads of EXCLUSIVE student deals with the coolest brands in SA.
Student deals are available all year round (i.e. not once off).
Membership = R200 for 12 months from date of purchase (i.e. pay today, get deals for 1 year from today).
We developed an App (available on Google Play and Apple App stores) as well as a mobi-site. Members can now: 

Find deals nearby (Map Mode),
See what the latest deals are,
Redeem deals with a simple mechanic – both online and in-store.

Barcode/QR code/API integration/WiCode and other systems are available and implemented by most of our partner brands.

Members can choose from two membership options:

Freemium – deals and discount just for being a student.
Premium – the FULL offering:

Standard Bank – Got a MyMo or Student Achiever account? Get Varsity Vibe Premium for FREE!
Cash – For everyone else, pay R200 and unlock all of the offers for 12 months!

We are a team of young, dedicated, driven and fun individuals who are trying to help SA students get more bang for their buck!
Still got some questions?
No problem – check out our FAQs page and hopefully we can answer them for you. You can also email us at support@varsityvibe.co.za or WhatsApp us on 081-696-1623.
Interested in becoming a partner brand?
Please visit our become a partner page to find out more.