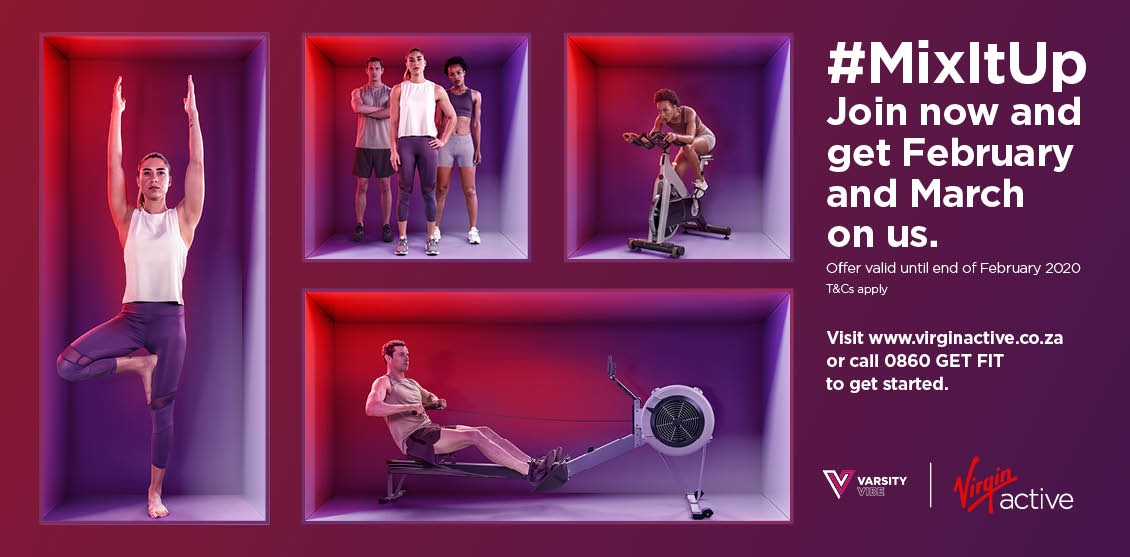 January felt like it was 87 days long and the day you committed to new fitness goals feels like even longer ago, right?!

Boredom is enemy number ONE. Here are Virgin Active's FIVE tips to keep your workout fresh and to keep you motivated.
Focus on your happiness
We all know that exercise is good for our health but life is also more fun when we move our bodies. A survey conducted by Virgin Active amongst its members revealed that 98% said exercise made them happier, 80% felt better after exercising and almost 60% felt they slept and looked better.
Patience, patience, patience
We all want instant results. We want to do a squat, turn around straight away and see a party- worthy derriere in the mirror. No such luck. Big results take time but your patience will be rewarded when you see and feel the end result! The changes that take the longest to see are the changes that are there to stay.
A friendly affair
Gym time can be quality time with friends. Set specific times and dates to workout with a friend and you will add a level of accountability to your routine. Use the Virgin Active app to book your classes. Once you're booked, you're committed.
Work out in the time you have
The start of a new year is always frenetic and finding time to train can be a challenge. Which is why so many busy peeps love HIIT (High Intensity Interval Training), aka training at timed intervals, at high intensity. It doesn't take long to complete but will get you torching those calories quickly. It can be performed with almost any piece of equipment you can get your hands on, including your own body weight.
Try Grid Training at Virgin Active, which includes push, pull, squat, lunge, bend and twist movements that incorporate all the muscles you need to function – whether it's in your sport or day-to-day activities.
Mix it up!
If your workout routine balances both cardio and strength aspects, you're all good. Tip: Group exercise classes are a great way to keep variety in your routine. Try a few different group exercise classes at Virgin Active, such as Reformer Pilates, Ride or Yoga and don't let boredom get the better of your new year's fitness intentions.
Get February and March on us when you join Virgin Active today!OR
Call
0860 GET FIT today!
T&Cs apply