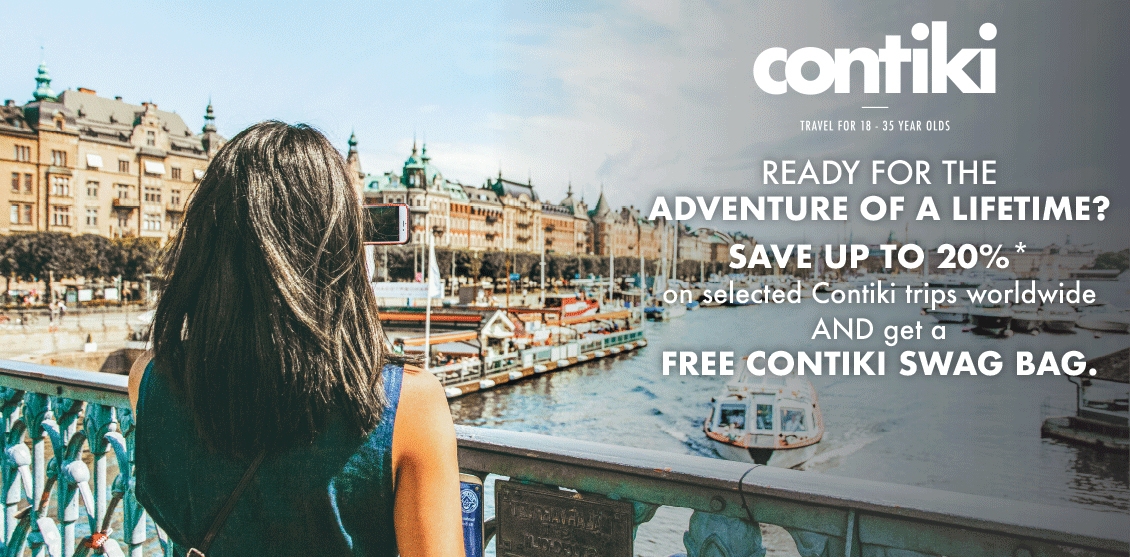 Europe 2020 Awaits. Save up to 20%* on selected trips to Europe AND get your own FREE Contiki Swag Bag.
At Contiki, they make travel easier and more social. They organise accommodation, food, experiences and transport, so you can relax and focus on exploring the world with young travellers just like you!
From in-depth dives to 1 week adventures, here are three of our favourite trips.
European Magic

Think 9 countries, 8 days and a handful of the top hotspots – our Eurpoean Magic trip is how you tick off Europe's essential travel destinations without hanging around. Glide through the canals of Venice, see the Eiffel Tower & Arc de Triomphe lit up by night, and visit the cute gable-houses of Amsterdam – all in just over a week. Now that's magic.

Greek Island Hopping

Live your best Greek island life on this sun, sea & culture-rich trip in Mykonos, Ios, Santorini & Athens. With 3 nights in each of Greece's most popular spots, staying in top-quality, air-conditioned hotels, you'll have plenty of time to explore charming fishing villages, shops, volcanoes & spotless beaches, getting deep beyond the ouzo and the olives and the ancient statues.

Western Rocker

Limited budget to rock Europe but don't want to compromise? This trip hits up London, Rome & Paris plus ancient ruins & alpine views in 8 days.
Book online here!
Remember to use the promo code

PPVARSITYVIBE2020

when you book to claim your free Contiki Swag Bag! For more information, call us at 011 280 8481 or email us at ReservationsSA@contiki.com.
* Savings of up to 20% off selected trips to Europe based on Contiki's Last Minute Deals, with full payment by 31 January 2020. To qualify for the Last Minute Deal savings of up to 20% off, a non-refundable deposit of R5000 must be paid within 7 days of reservation. Contiki Swag Bag offer is available until 31 January 2020 and bags will be delivered when payment is received in full before 31 January 2020.