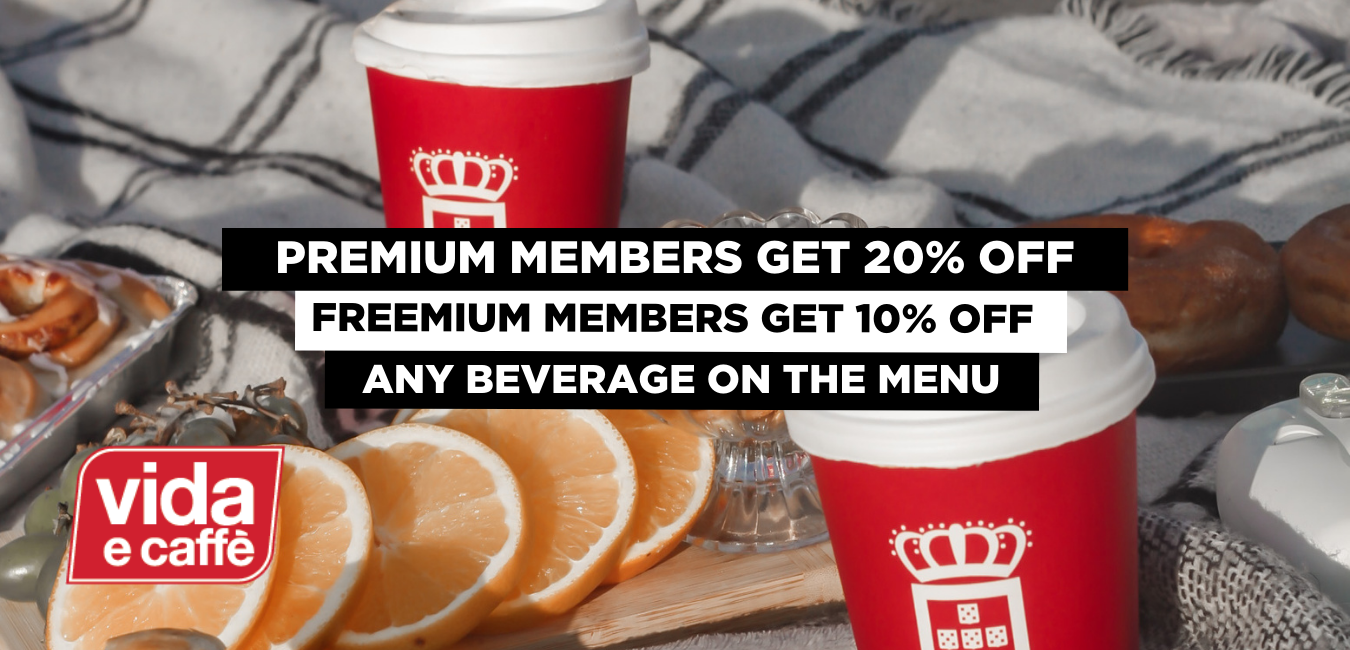 As unique as our students, their coffee is a reflection of the dynamic personalities who embody the vida way of life. Infused with vida e caffè passion for caffè, with a range of bespoke blends & single origin coffees that are completely out of this world.
Varsity Vibe Freemium members get 10% and Premium members get 20% off any beverage vida e caffè menu.  
Available at selected stores nationwide from 18 May – 18 August 2021.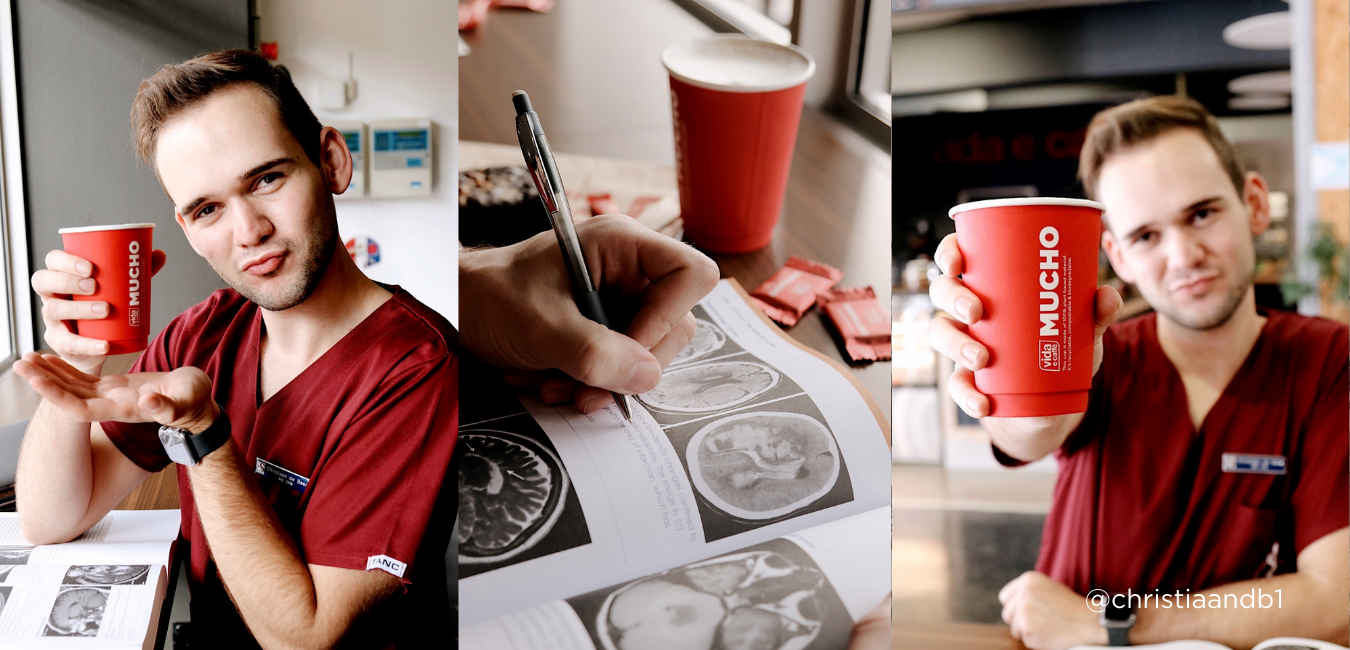 STORES THIS OFFER WILL BE AVAILABLE AT INCLUDE:
| | |
| --- | --- |
|  24 Central Sandton |  Shop 9, 24 Central, Gwen Lane, |
|  Access Park  Kenilworth |  Access Park Kenilworth, Doncaster Road,  Cape Town |
|  Belvedere Square |  Shop 23, Belvedere Square Keurboom Rd &  Belvedere rd, Claremont, Cape Town, 7735 |
|  Builders Warehouse  Boksburg |  c/o North Rand Road and, Goodman Rd, Beyers Park,  Boksburg, 1459 |
|  Builders Warehouse  Castle Gate |  Solomon Mahlangu Dr, Erasmus Park, Pretoria, 0048 |
|  Builders Warehouse  Centurion |  C/O Lenchen Avenue and Clarinet Street, Centurion,  0157 |
|  Builders Warehouse  Constantia Berg |  Builders Warehouse Constantia Berg; c/o Main rd &  Bark street; Retreat |
|  Builders Warehouse  Fourways |  c/o Noon Road & Sunrise Boulevard, Lonehill Ext  56; Fourways, 2191 |
|  Builders Warehouse  Gezina |  352 Voortrekker Road; Gezina; Pretoria, 0084 |
|  Builders Warehouse  Midrand |  New Road. Midrand |
|  Builders Warehouse  Northriding |  4 Capital Street, Northgate Ext 8, Northriding, 2169 |
|  Builders Warehouse  Rivonia |  Rivonia Rd &, Leeuwkop Rd, Sunninghill,  Johannesburg, 2191 |
|  Builders Warehouse  Strubens Valley |  c/o Hendrik Potgieter Street and, Jim Fouche,  Strubensvalley, Roodepoort, 1724 |
|  Builders Warehouse  Zambezi |  371 Veda Avenue; Montana; Pretoria, 0182 |
|  Canal Walk |  Shop 404 & 406, Canal Walk, Century Blvd, Century  City, Cape Town, 7441 |
|  Cape Town Airport  Kiosk |  International Arrivals, Cape Town International  Airport, Matroosfontein, Cape Town, 7490 |
|  Capetown Airport |  Shop 10, Central Terminal Building, Cape Town  International Airport, Matroosfontein, Cape Town,  7490 |
|  Cavendish Connect |  Shop 22, Intaba Centre, Corwen Street |
|  Cavendish Square |  Cavendish Square, Shop L69, Dreyer Street,  Claremont, Cape Town |
|  Constantia |  R0027C, The Constantia Village, Cnr Main &  Spaanschemat Roads, Constantia, Cape Town, 7800 |
|  Cresta Bridgelink |  Shop BL15, Lower Ground, Cresta Shopping Centre,  Beyers Naude Drive, Cresta, Randburg, 2118 |
|  Design Kiosk |  Kiosk No 1, Design Quarter, Cnr William Nicol &  Leslie Avenue East, Fourways |
|  Douglasdale Village |  Shop 14 Douglasdale Village Shopping Centre, Cnr  Leslie &, Douglas Dr, Johannesburg, 2191 |
|  Exclusive Books  Melrose Arch |  Shop Number H62EF, Melrose Area, Upder Galleria,  The Piazza, Melrose Blvd, Melrose Arch |
|  Exclusive Books  Rosebank Mall |  Shop Number C332 & C333, Mall of Rosebank, 0 Bath  Avenue, Rosebank, 2196 |
|  Farrarmere Square |  Shop 65, The Square At Farrarmere, Cnr Kei Road &  Klip Street, Farrarmere |
|  Florida Road |  Shop No 2, Oakwood Building, 465 Innes Road,  Morningside, Durban |
|  Glenhove |  Shell Service Station, Houghton Estate, Cnr  Glenhove Road & Central,Houghton, Johannesburg,  2198 |
|  Honeydew Village |  Honeydew Village Shop 07, John Vorster Rd,   Radiokop, Johannesburg, 1724 |
|  Kenilworth |  Shop 5a,SS Haven House, 2 Mains Ave, Kenilworth  7708 |
|  Kloof |  Shops 1 &2, Mooi Kloof Centre, 34 Kloof Street, Cape  Town |
|  Lanseria |  Shop C, Lanseria Airport 911 JQ, Main International  Palindaba Rd Lanseria JHB |
|  Lynnwood Bridge |  Shop 15 LynNwood Bridge Shopping Centre  Lynnwood Ave &, Daventry St, Lynnwood, Pretoria,  0081 |
|   Newlands Quarter     (Maindean) |  Shop 014, Newlands Quarter, Dean St, Newlands,  Cape Town, 7725 |
|  O.R Tambo Kiosk |  Shop D009, Airside Departures, Domestic Terminal  O. R. Tambo International Airport, O.R. Tambo,  Kempton Park, 1627 |
|  OR Tambo |  Shop D009, Airside Departures, Domestic Terminal  O. R. Tambo International Airport, O.R. Tambo,  Kempton Park, 1627 |
|  Palmyra Road |  Shop 5, Palmyra Junction, 9 Palmyra Rd |
|  Pineslopes Shopping  Centre |  Shop NS 09, Pineslopes Boulevard, Cnr The Straight  Road & Witkoppen Road, Fourways |
|  Preller DIY  Superstore  Bloemfontein |  17 Monument Rd, Oranjesig, Bloemfontein, 9320 |
|  Preller Square  Bloemfontein |  Shop 16A, Preller Square Shopping Centre,Graaf  Reiniet Street,Dan Pienaar, Bloemfontein |
|  Pretoria University |  Huis en Haard Building, University of Pretoria,  Lynnwood Road, Hatfield, Pretoria |
|  Pretoria University  Kiosk |  Huis en Haard Building, University of Pretoria,  Lynnwood Road, Hatfield, Pretoria |
|  Rivonia Village |  Shop ST4, Rivonia Village, Cnr Mutual Road, Rivonia  Boulevard, Rivonia |
|  Roeland Street |  62 Roeland Street, Cape Town |
|  Rondebosch |  41 Main Road, Rustenburg Shop, Rondebosch, Cape  Town, 7700 |
|  Rosebank Mall |  Shop 282, Rosebank Mall, 50 Bath Avenue,  Rosebank, 2196 |
|  Silverstream  Bryanston |  Silver Stream Business Park, 10 Muswell Road  South, Bryanston, |
|  Stellenbosch |  Ecclesia Building, Corner Shop, Ground Floor, Shop  2, Cnr Van Ryneveld & Plein Streets, Stellenbosch |
|  Sun City |  Let 25, R556, Sun City Entertainment Centre, Sun  City, 0316 |
|  The Neelsie  Stellenbosch |  Shop G10 , Neelsie Student Centre, 7 De Beer Rd,  Stellenbosch Central, Stellenbosch, 7600 |
|  Tygerberg Medical  Campus 2 |  Canteen, Tygerber Campus, Francie Van Zijl Dr,  Tygerberg Hospital, Cape Town, 7505 |
|  UWC (NB) Halaal |  UWC Robert Sobukwe Road Bellville 7535 |
|  V&A Clocktower |  Shop G10, Clock Tower, Victoria & Alfred Waterfront |
|  Walmer Park |  Shop 111, Walmer Park Shopping Centre, Main    Road, |
|  Waterfront |  Shop 6104, Victoria Wharf, Victoria & Alfred  Waterfront |
|  WITS |  WITS University, Amic Deck, 65 Empire Rd,  Parktown, Johannesburg |